We take the slogan, "Love Where You Work" as serious business. Each community, and our home office, have dedicated teams called the Fun Squad. The Fun Squad is in charge of planning creative and special moments and events to celebrate our team members and bring some fun and joy to their day. Oxford Senior Living believes firmly that team members who feel valued and heard will create bigger goals for themselves. That's why we like to pour into our team members. You truly do become a part of the family, and as a part of our family, we want you to be successful. We encourage you to be curious, be creative and spend that extra time with the resident who likes to watch Jeopardy or share a story of your own as you bond with each resident.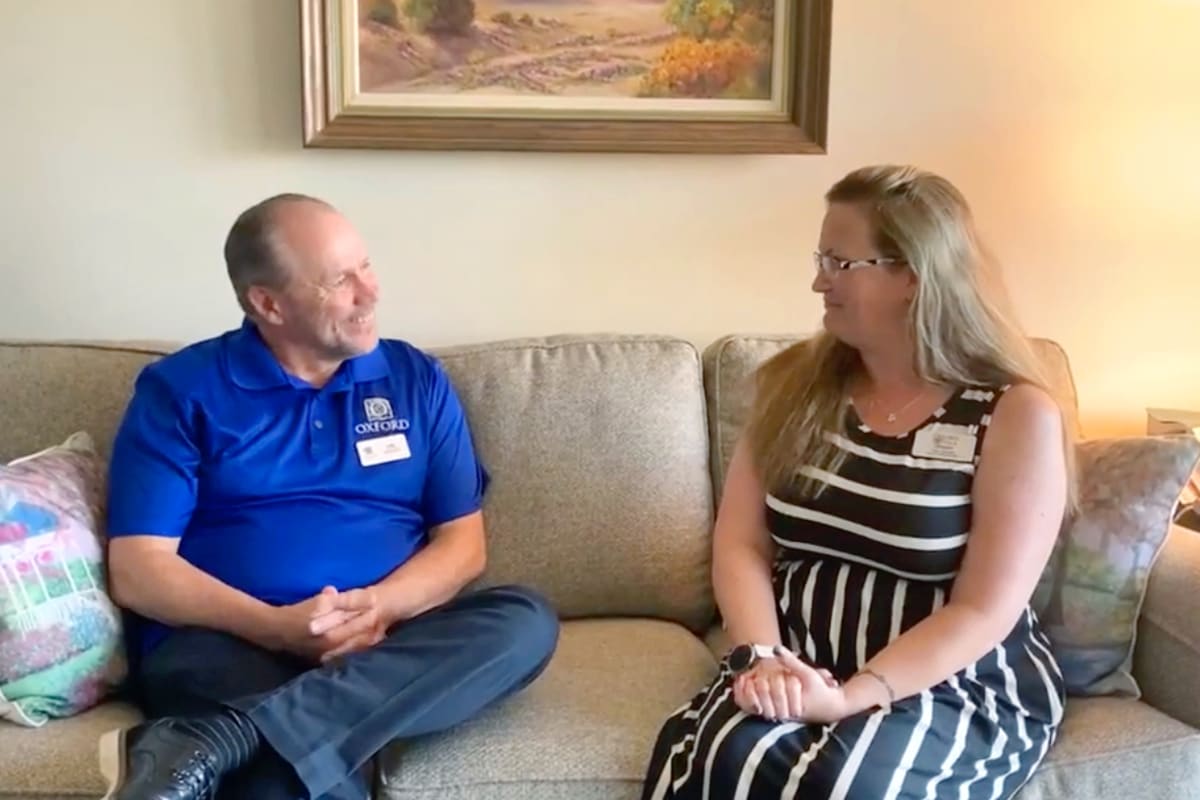 A Great Work Culture Starts at the Top
There is a strong connection to each community with the home office. In fact, you might even see the President and COO walking around your community asking if you have anything you would like to see happen within the company! Our home office is in constant communication with community leadership and serves as a daily resource for all of our team members.
Create your story at Oxford and Love Where You Work today!
"I love working for Oxford Senior Living and have for almost 7 years. I am surrounded by residents, families and team members who inspire and humble me. I get to work alongside individuals who are dedicated, motivating, selfless, and amazing at what they do. I'm extremely Blessed to have a career that I truly enjoy day in and day out."

Jamie Morrow, Sales Specialist, Home Office, Wichita, KS

"I love where I work because I am given the opportunity to interact with so many wonderful people. I am truly fulfilled when I support the senior population and make a difference for them. We have so much to learn from our elders and I am lucky to know our residents!"

Deserae Haynes, Community Sales Director, The Oxford Villa, Wichita, KS

"Oxford is a nice place to work. My colleagues and other team members are cooperative, and we love to take good care of our residents. That is our name here and what we are known for. The entire community is conducive, and I am very happy to work here. I have been working at Oxford Glen Carrollton for 4 1/2 years and I cannot imagine a better place to work."

Christina Eyeson, CNA, Oxford Glen Carrollton, Carrollton, TX

"There are so many reasons why I love where I work! We are a close knit family. I love the communication and passion that our team members have for each other and our residents. I am just as comfortable going to my direct supervisor with any questions as I am going to the President/CFO of our company. I also love hearing the stories of love, life, and successes from our residents. There is so much wisdom to be learned. I feel very fortunate to be a part of this company."

Shauna Koons, Executive Director, The Oxford Villa, Wichita, KS

"I have been at Oxford Glen for over 7 years. I retired from Merrill Lynch in 2007 and decided to get back in the work force in 2015. God brought me to Oxford Glen. If it weren't for Oxford Glen, I don't know where I would be. I can say there is no other place I'd rather be other than "home" which is where my residents are. They are a complete joy for me. I love that I get to implement one of Oxford's core programs called L.E.G.A.C.Y, which is a program tailored to enrich our residents' lives. Not only do I get the pleasure of working where my passion is, Life Engagement, I also get to serve in different areas of our community. Oxford Glen is a very good place to be. It is heartwarming, positive, loving, and family oriented."

Mauri Sadler, Life Engagement Director, Oxford Glen Grand Prairie, Grand Prairie, TX

"I have worked at Oxford for almost two years. I started at Oxford right out of college and I believe it was one of the best decisions I have made. I have been able to progress and grow my knowledge in my field during my time here. Everyone I work with is super selfless and always willing to lend a helping hand when needed. I believe that is why Oxford Senior Living is so great. The people I get to work with are more than just co-workers, we are a little family. I am forever grateful to be a part of Oxford and I am excited for the future!"

Trevor Gordon, Staff Accountant, Home Office, Wichita, KS
"I love working for Oxford Senior Living and have for almost 7 years. I am surrounded by residents, families and team members who inspire and humble me. I get to work alongside individuals who are dedicated, motivating, selfless, and amazing at what they do. I'm extremely Blessed to have a career that I truly enjoy day in and day out."
Jamie Morrow, Community Sales Director, Oxford Grand NewMarket, Wichita, KS

"When I joined Oxford over six years ago, a specific phrase in our Mission Statement caught my eye: "Caring is the first priority." We have been entrusted with the care and happiness of our residents. Everyone at Oxford, from our Leadership Team to our extraordinary direct care team members, is dedicated to serving our residents and helping them feel at Home. There's no better feeling than knowing that you are helping change people's lives for the better. I love that we do that … and I love where I work."
George Sherman, Vice President Construction & Development, Home Office, Wichita, KS

"Oxford Senior Living is family to me. I feel at home coming to work each day. The community layout is specifically designed for those with cognitive impairments. Our residents are unique and empowering. Our direct care team members are extraordinary and truly enjoy making a difference in our residents lives each day. Our leadership members work together as a team to serve our seniors and that alone makes it a great place to work. My late father always told me that if you love what you do, you'll never work a day in your life. I LOVE OXFORD!"
Georgina Smith, Community Sales Director, Oxford Glen Carrollton, Carrollton, TX

"Oxford is a nice place to work. My colleagues and other team members are cooperative, and we love to take good care of our residents. That is our name here and what we are known for. The entire community is conducive, and I am very happy to work here. I have been working at Oxford Glen Carrollton for 4 1/2 years and I cannot imagine a better place to work."
Christina Eyeson, CNA, Oxford Glen Carrollton, Carrollton, TX

"There are so many reasons why I love where I work! We are a close knit family. I love the communication and passion that our team members have for each other and our residents. I am just as comfortable going to my direct supervisor with any questions as I am going to the President/CFO of our company. I also love hearing the stories of love, life, and successes from our residents. There is so much wisdom to be learned. I feel very fortunate to be a part of this company."
Shauna Koons, Business Office Manager, The Oxford Villa, Wichita, KS