Nestled amid scenic, rolling terrain in Kansas City's Northland, The Oxford Grand Assisted Living & Memory Care is where the convenience and excitement of living in a big city meets warm, midwestern charm. Welcome home to The Oxford Grand.
Oxford Senior Living was founded more than 10 years ago with a vision to enrich the lives of seniors every day with love and dignity by providing beautiful, innovative home environments and extraordinary team members who are empowered to get to know each resident and love each resident… Because you take better care of someone when you love them.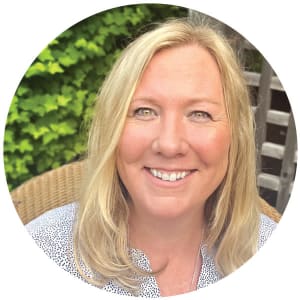 Meet Our Executive Director
Welcome to The Oxford Grand!
As Executive Director, I am happy to connect with you on any questions you may have about our amazing community. We want to offer you and your family a community full of love, hope and friends. Our exceptional team members are working hard to keep our community as healthy and safe as possible. I look forward to getting to know you.
Andrea Schroetke
Executive Director
aschroetke@oxfordseniorliving.com
Meet Our Residents
Get a glimpse inside the lives of the people you might call neighbor and friend one day! The residents at The Oxford Grand have amazing stories and we love to share them.
Our People
From the Home Office to the dining room, every team member becomes a part of the Oxford Senior Living family. The human element of caring is our first priority; an extraordinary and empowered staff values and embodies service to others; and the environment inspires happy residents who feel at home sharing hopes and dreams, recipes and fishin' stories.
"This is the most caring, compassionate & loving community around! I feel so blessed to have found this place for my Mom!"
- Liz G.

"There is always something great going on at The Oxford Grand. Plenty of activities to keep your loved ones involved. I couldn't ask for any better care for mom!"
- Alex B.

"They take the safety and health of their residents seriously, as shown during this Covid-19 pandemic."
- Mary K.

"I am very happy with the care my mother is getting in Oxford Grand's memory care unit. The people who work there care about those they are taking care of. The community is very nice and clean."
- Sandy D.

"The Oxford Grand is a great Northland senior living community with a convenient location. Their staff is excellent and our homecare clients give very positive feedback to me regarding their experiences there. I highly recommend considering including The Oxford Grand in your search!"
- Brian W.

"The Oxford Grand Team is amazing and very attentive to their resident's needs. From the moment you walk into the community, you get a welcoming feeling of love and caring for their residents and visitors. The residents are always in the common area engaging in activities and having fun. There is a real sense of a community atmosphere where staff and residents are compassionate towards one another. The community is absolutely gorgeous! Most importantly the residents and staff always look happy."
- Amy M.

"We were are so impressed with the friendliness of everyone we meet that worked there, even those that we saw coming down the hall that didn't know we were touring. Alayna was great to talk to and answered so many of our questions. She talked with my father for a bit and helped him feel better about the future. And it was nice to see her say hi to everyone by name as we toured. My mother was thrilled with the residents who stopped with their dogs to say hi to her so she could pet them. I have definitely let others know if they're needing a place like this for memory care or senior living for themselves or a family member that they need to check Oxford Grand out as I highly recommend it!"
- Vonnie K.
What Others Are Saying
We are blessed with incredible referral partners, amazing residents and extraordinary resident families that we consider our extended family! Click to see what others are saying about The Oxford Grand.