Last updated April 28, 2020
Wellness Remains Our #1 Priority
We're here to provide our residents with a safe and sheltered environment during these uncertain times. As we work through the COVID-19 health crisis, we are adapting to their needs and desires while taking special precautions. Rest assured, they will continue receiving the high level of care and protection that only Oxford Senior Living can deliver.
---
When will restrictions lift?
Oxford Senior Living will continue to follow federal guidelines from the CDC and CMS in addition to paying close attention to local restrictions for each community managed by Oxford. As some area businesses begin to reopen, health experts warn more cases of the coronavirus could occur. We understand how dangerous this virus can be for vulnerable high-risk people like our residents. In Oxford communities, visitor restrictions and general infection control precautions will remain in place as long as our corporate team deems it necessary for the health and safety of our residents and staff.
---
Preventing the Spread of Infection
No visitors or guests will be allowed in the community at this time. Only necessary personnel will be permitted.

Our community is directing necessary personnel to enter through the main entrance only and complete a brief screening process at that entrance.

We have canceled all large group activities and communal dining.

Our community has implemented increased frequency of cleaning to maintain disinfected surfaces throughout the building.

All residents and team members are being closely monitored daily for any signs of symptoms.

We've posted additional hand-washing reminders and hand sanitizers throughout the community.

We have canceled several events already and will continue to monitor the situation to determine if additional cancellations need to occur. Watch our community Facebook page for event updates.
​
---

Adapting to Residents' Needs
During times of uncertainty, mental health is also at risk. Every day we are ­finding new ways to make our residents' lives easier. That includes bringing positivity to their environment, providing them with entertainment and minimizing disruption in their lives as much as possible under the circumstances.

Thank you for your trust in us!
How You Can Help
We know this situation is especially difficult for family and friends of residents. Although visits are not allowed, we encourage you to stay connected with your loved ones through phone calls and video chats. Call us if you need help setting up a video chat. And please continue doing your part to help us prevent COVID-19 from further endangering elderly communities.
Stay Updated
Bookmark this page and follow us on Facebook for updates. If you have any questions, please contact your Oxford Senior Living community and ask to speak with the executive director.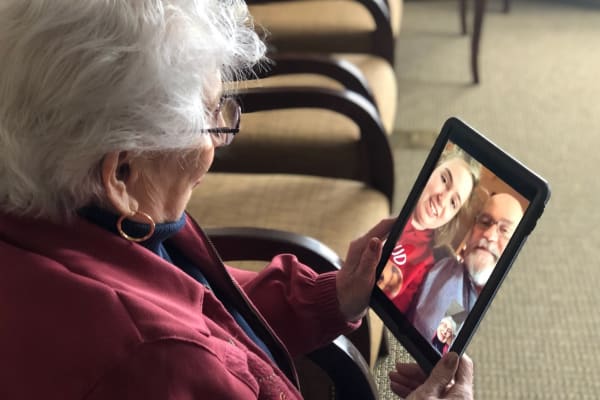 For the latest information on COVID-19 in your state