Memory Care at Oxford Glen: Feels like home
At Oxford Glen Memory Care at Grand Prairie our memory care houses are intimate, warm environments that focus on the needs of our residents in a uniquely personal fashion. Each suite opens to a great room that includes a cozy fireplace, comfy chairs and a kitchen space where residents will find a specially trained care team and engaging activities uniquely designed for their needs and interests.
The specially designed Oxford Memory Care House allows increased visibility for team members and helps residents find their way around their home. Anxiety and confusion is minimized as your loved one can easily navigate the space and find an activity for themselves.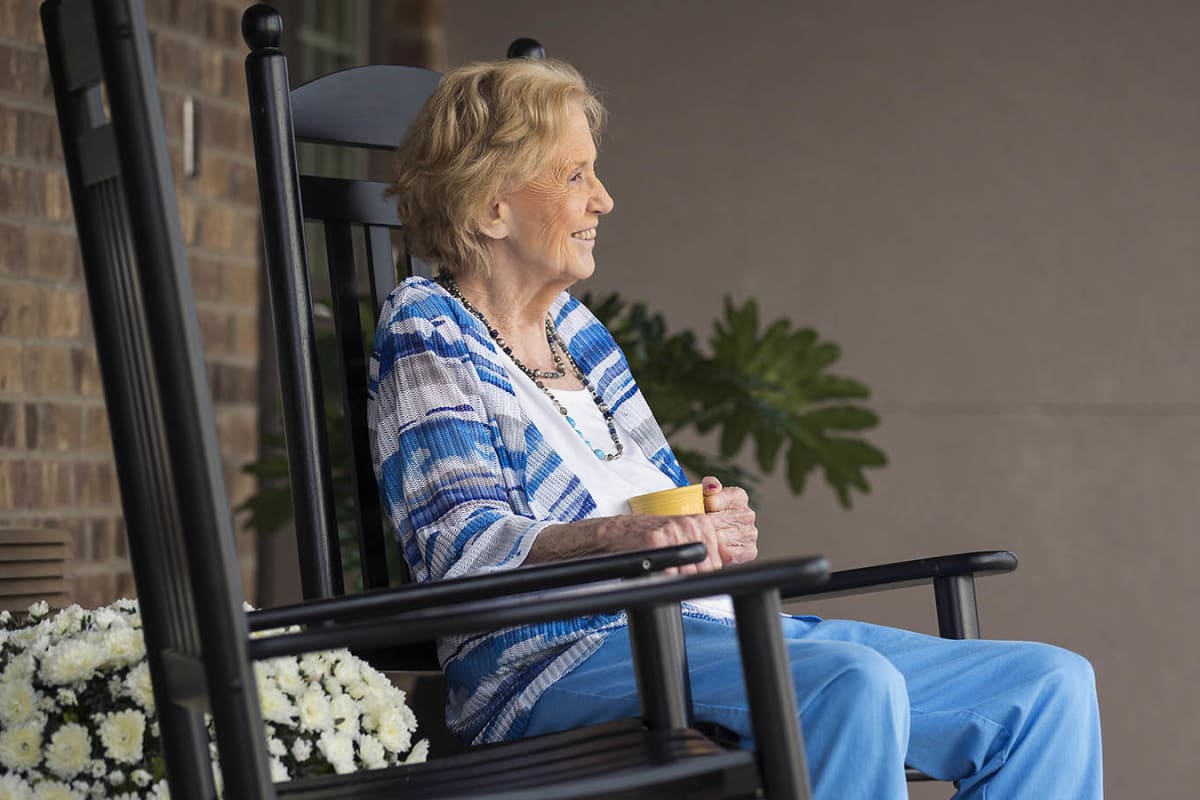 Innovative, Personalized, Enriching Memory Care
Oxford Memory Care was developed in 2010 to provide innovative personal, enriching, and loving environments for individuals living with dementia. We want to get to know you and your loved one as your family becomes a part of the Oxford Family. The Oxford approach to memory care is centered on one ideal:
Understanding who someone was before Alzheimer's is the path to understanding how to genuinely care for them now.
By working with families to create individualized profiles of life before Alzheimer's, we create a lifestyle experience that is truly unique. Using innovative technologies and research proven therapies, our caring team treasures what can be, connecting residents to family and friends in ways that provide hope and joy.
"This is a beautiful, well maintained community, staffed by folks that feel like family to me. They work to make every resident feel loved and at home!"
- Carolyn B.

"I cannot tell how much we have been blessed thus far by Oxford Glen. God has his hand in this place. I Pray they are still here when I am in need of this type of care."
- C.D.

"Both my parents are there and they have are so happy which makes me happy."
- Alba M.

"Wow! What a wonderful place. From the moment I walked in, it felt right… My mom is happy and engaged and really enjoying all the activities and people. The nurses have gone above and beyond to understand her medical needs. The Life Engagement Director is truly an Angel sent from heaven. She has the most caring and loving heart of anyone I have ever met. They send me lots of pictures and updates and that helps tremendously! Thank you all so much at Oxford Glen. I cannot wait to meet the caregivers more and thank them all in person. Thank you all so very much for loving on my mom. I feel so good with our decision to let Oxford Glen care for my mom!!"
- Karenina A.

"My Mother has been at the community for almost a year and I don't know a better place for her to be. The staff is great. They always text me or call with any changes in her condition and are always willing to talk with me regarding any concerns. Thank you Oxford Glen Grand Prairie."
- Lynn M.

"The staff doesn't just talk the talk they walk the walk. The creativity and commitment that they have shown to support their residents during the pandemic has been amazing."
- A.

""I feel so blessed to have found Oxford Glen. My mom has early onset Alzheimer's…it's been so hard for her and our family. To say finding Oxford Glen was a blessing is an understatement! The team here is awesome and so caring. If you're looking for a place that will treat your loved one with patience, care and provide them with a safe atmosphere, this is it. They really care and every time I visit my mom it shows!! Love the team at Oxford Glen!!"
- NaShala

"The staff have all been kind & caring, welcoming & helping us transition my father who needed 24/7 care after being hospitalized for seizures. It's a beautiful facility that has 3 small clusters of "homes" with short hallways, a kitchen/living room/dining room area. I, particularly, appreciate the aid/nurse ratio to patient. All in all they are very accommodating and helpful as they assist in guiding you through this difficult stage of life. They are a secure facility, locked down 24/7, taking care to keep their residents secure and safe as the world continues to struggle with COVID. I would highly recommend Oxford Glen."
- Kim W.
Oxford Memory Care
The following list of services is only a sampling of what you can expect at Oxford Glen Memory Care – because loving our residents is a way of life, not a bullet point on a list.
Caring team members specially trained to work with individuals living with dementia
Exceptional staffing ratios in Oxford Memory Care houses are second to none
24-hour nursing gives your loved one the care he or she needs
Touchscreen technology provides unlimited cognitive engagement options and personalized reporting for families and our team.
State-of-the-art security, fire, and resident wellness technology, providing safety and peace of mind
Medication management utilizing electronic Medication Administration Records – increasing safety and accuracy in administering medications
A dedicated life engagement team interacts with residents seven days a week, keeping residents active and engaged.
A secure outdoor courtyard