Technology at Oxford Glen Memory Care at Grand Prairie
Oxford Senior Living embraces multiple technologies that enrich the lives of our residents by improving the quality of care, reducing opportunities for error, and increasing communications between residents, staff, and loved ones. Here are just a few of the technologies that will enhance your loved one's life at Oxford Glen Memory Care at Grand Prairie.
Simple C Companion for Memory Care
The Simple C Companion is an intuitive touch-screen that promotes memory, engagement, and better communication for seniors. During key times throughout the day, the unit is activated and delivers scheduling help, such as activities and mealtimes, and also behavioral interventions for under stimulation, sundowning and aggression – all without the use of medications. Oxford Glen Memory Care at Grand Prairie residents receive rich visual cues such as their own family photographs, and hear meaningful audio such as preferred pieces of music and personalized messages recorded by family members or a favorite caregiver, to stimulate positive memories and foster healthy daily routines.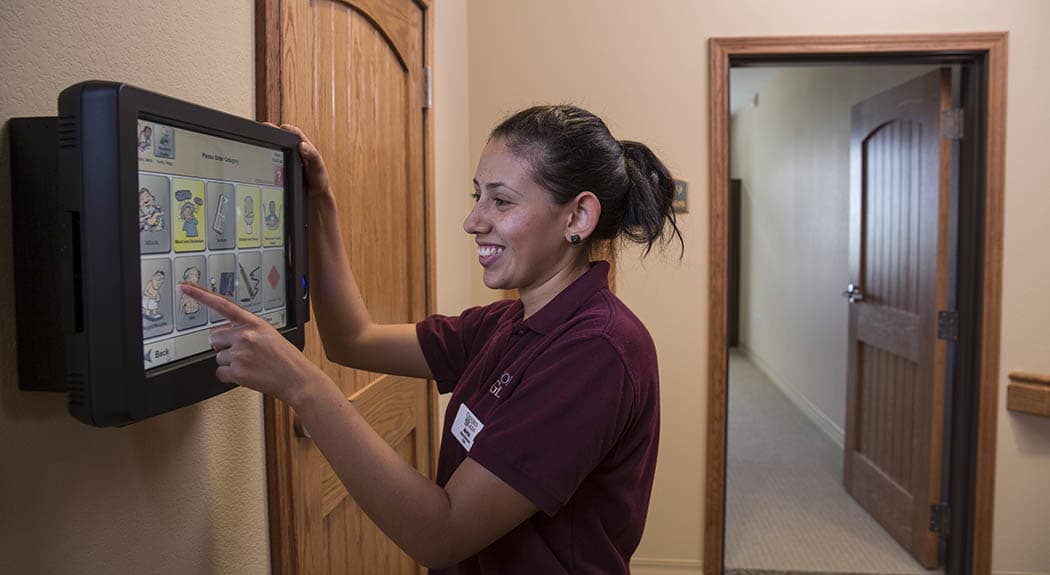 CareTracker
---
CareTracker allows managers to quickly communicate with staff about changes in resident care. The Clinical Intelligence tool looks at millions of data records and quickly spots potential issues before they become problems. Alerts indicate residents who are at risk for hospitalization, aren't drinking or eating enough, having constipation issues, losing weight too fast, consistently declining in ADL performance and more.
Communities that Inspire. You'll Love Oxford Living. Love where you live.