Located in the friendly city of Owasso in the suburbs of Tulsa, Oxford Glen Owasso makes the human element of caring our first priority. Welcome home to Oxford Glen.
Oxford Senior Living was founded more than 10 years ago with a vision to enrich the lives of seniors every day with love and dignity by providing beautiful, innovative home environments and extraordinary team members who are empowered to get to know each resident and love each resident… Because you take better care of someone when you love them.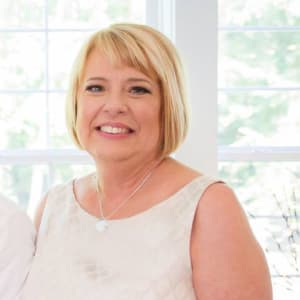 Meet Our Executive Director
Welcome to Oxford Glen!
As Executive Director, I am happy to connect with you on any questions you may have about our amazing community. We want to offer you and your family a community full of love, hope and friends. Our exceptional team members are working hard to keep our community as healthy and safe as possible. I look forward to getting to know you.
Lisa Truett
Executive Director
ltruett@oxfordseniorliving.com
Meet Our Residents
Get a glimpse inside the lives of the people you might call neighbor and friend one day! The residents at Oxford Glen have amazing stories and we love to share them.
Our People
From the Home Office to the dining room, every team member becomes a part of the Oxford Senior Living family. The human element of caring is our first priority; an extraordinary and empowered staff values and embodies service to others; and the environment inspires happy residents who feel at home sharing hopes and dreams, recipes and fishin' stories.
"If you are looking for a place for your loved one, this is an amazing place. 5 Stars all the way around!"
- Josie S.

"The family atmosphere, the food, the activities, the beautiful living quarters and the access to visiting my husband made the most difficult time of our lives easier. I would recommend Oxford Glen to anyone who needed memory care."
- Betty O.

"The staff is caring and compassionate- but most importantly they get to know each resident as an individual and try to find activities that they once enjoyed and provide that opportunity again."
- LJ K.

"My father truly loved it there and definitely had his favorite staff members. I loved it there because I knew that he was always safe and cared for there. They always kept me updated on everything that was going on with him. I also liked that it had a home like atmosphere and that it was always very clean. I came to think of the staff there as extended family members. In fact I still talk to them till this day. I highly recommend Oxford Glen to anyone who needs placement for their loved ones with Dementia/ Alzheimer's, you can't get any better care than you do with them."
- Shelly F.

"Such an amazing place for people with dementia! I have been with Oxford Glen for over close to 2 years and am so thankful to work for a team with such honesty and integrity."
- Amber N.

"Oxford Glen goes above and beyond to make sure each resident feels at home. Constantly planning activities, parties & outings to give these residents smiles!"
- Trista J.

"The staff is caring and definitely care about their residents. Couldn't have asked for a better place for my Dad to be!"
- Shelly F
What Others Are Saying
We are blessed with incredible referral partners, amazing residents and extraordinary resident families that we consider our extended family! Click to see what others are saying about Oxford Glen.