Located in the tranquil city of Sachse in the Dallas-Fort Worth area, Oxford Glen Sachse makes the human element of caring our first priority. Welcome home to Oxford Glen.
Oxford Senior Living was founded more than 10 years ago with a vision to enrich the lives of seniors every day with love and dignity by providing beautiful, innovative home environments and extraordinary team members who are empowered to get to know each resident and love each resident… Because you take better care of someone when you love them.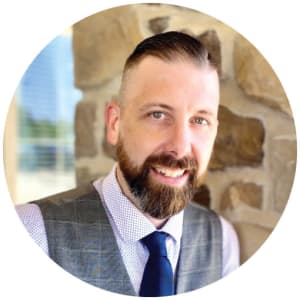 Meet Our Executive Director
Welcome to Oxford Glen!
As Executive Director, I am happy to connect with you on any questions you may have about our amazing community. We want to offer you and your family a community full of love, hope and friends. Our exceptional team members are working hard to keep our community as healthy and safe as possible. I look forward to getting to know you.
Jarred Grisham
Executive Director
jgrisham@oxfordseniorliving.com
Meet Our Residents
Get a glimpse inside the lives of the people you might call neighbor and friend one day! The residents at Oxford Glen have amazing stories and we love to share them.
Our People
From the Home Office to the dining room, every team member becomes a part of the Oxford Senior Living family. The human element of caring is our first priority; an extraordinary and empowered staff values and embodies service to others; and the environment inspires happy residents who feel at home sharing hopes and dreams, recipes and fishin' stories.
"My family and I could not be happier with Oxford Glen and their staff. And most importantly, my father is visibly happy and healthy"
- Maria B.

"Love this place. I refer new residents here when they need a new home. The best Caregivers ever!"
- Kelly D.

"You are treated like family from the minute you walk in."
- Tanesha C.

"Had a great experience with my dad here. He had advanced dementia/Alzheimer's and we could no longer take care of him at home. All the staff were caring and friendly with each interaction we had. We are really grateful for Oxford where we felt completely comfortable with the care my dad received and leaving him there. The community and rooms were also clean."
- Samuel J.

"We were searching for a memory care home for my Mom and found Oxford Glen in Sachse. The environment has the feel of an inviting pacific northwest lodge. Our experience has been amazing in our interactions with the Executive Director and Sales Director. They have a beautiful courtyard for my mother to enjoy the outdoors and her room is spacious and private. We are so grateful that she is in a safe, caring environment."
- Ellecia W.

"Great company, I would highly recommend this beautiful establishment!! Everyone there is so helpful and sweet. I love the fun and caring energy when I visit. The Executive Director is so sweet and always seems to be available for my small to large questions! My mom is so happy to be here she's made so many friends being there. Thank you for letting us join your family Oxford Glen at Sachse!"
- Kierstin H.

"Awesome and friendly staff! Absolutely love visiting! The Executive Director is heaven sent."
- Kierstien M.

"The staff is very caring. My mom is never more than a few steps away from someone who will gladly help her. The community is very clean. My mom is well cared for. Additional services such as mobile dentistry and a hair stylist make teeth cleaning and hair cuts so easy for a stroke victim in a wheel chair. My job as a family member responsible for my mother is much easier because of this community.""
- Debbie

"I recently became primary caregiver for my aunt and couldn't be happier placing her at Oxford Glen! Her room is always kept tidy (I've never seen her bed not made). The residents have a very warm and comfortable living area that feels like a home (they even have a rather large courtyard they have access to). Always at least one staff member present in the area and it's very manageable for them- not too many residents in one areaand they're always kind and understanding with the residents. They don't require prior notice to visits and I can pop in any time! Truly a lovely home for her."
- Darla W.
What Others Are Saying
We are blessed with incredible referral partners, amazing residents and extraordinary resident families that we consider our extended family! Click to see what others are saying about Oxford Glen.