Oxford Senior Living embraces multiple technologies that enrich the lives of our residents by improving the quality of care, reducing opportunities for error, and increasing communications between residents, team members, and loved ones.
Here are just a few of the technologies that will enhance your life at Oxford Glen Memory Care at Sachse.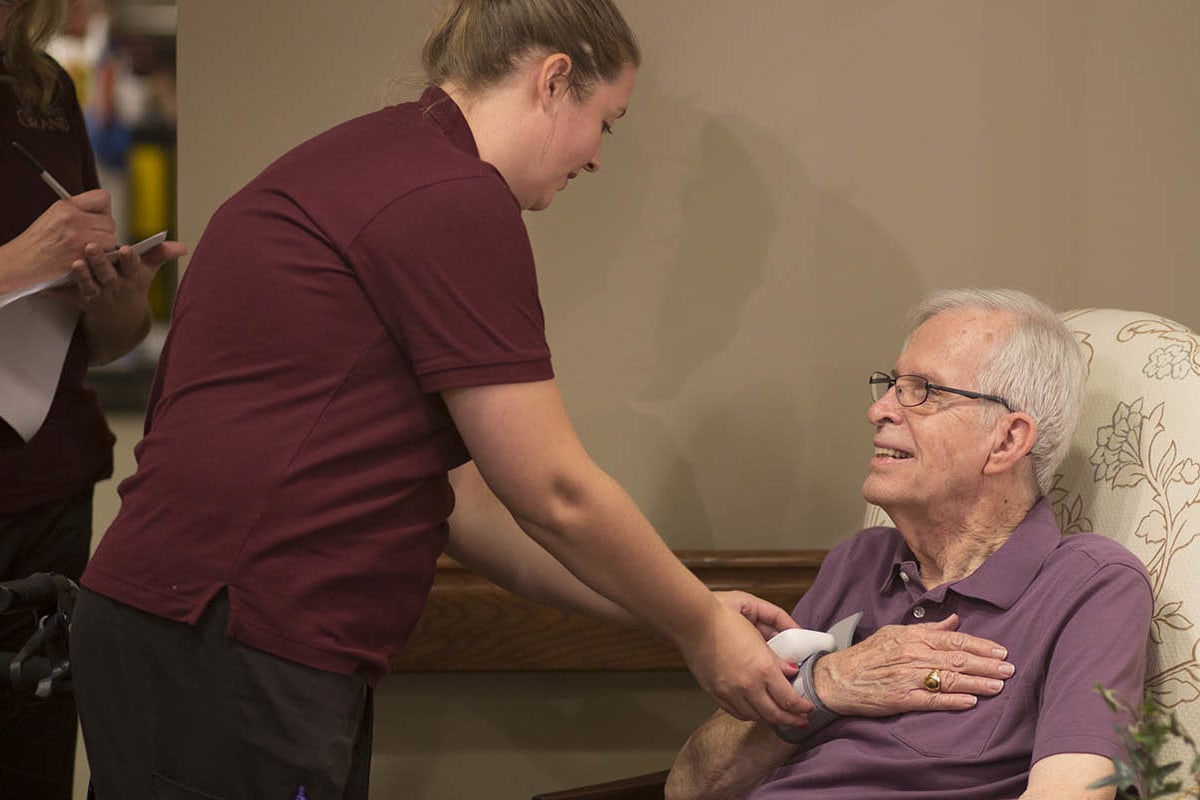 Electronic Charting
Our EMAR (Electronic Medication Administration Record) allows managers to quickly communicate with team members about changes in resident care. The Clinical Intelligence tool looks at millions of data records and quickly spots potential issues before they become problems. Alerts indicate residents who are at risk for hospitalization, aren't drinking or eating enough, having constipation issues, losing weight too fast, consistently declining in ADL performance and more.
"My family and I could not be happier with Oxford Glen and their staff. And most importantly, my father is visibly happy and healthy"
- Maria B.

"Love this place. I refer new residents here when they need a new home. The best Caregivers ever!"
- Kelly D.

"You are treated like family from the minute you walk in."
- Tanesha C.

"Had a great experience with my dad here. He had advanced dementia/Alzheimer's and we could no longer take care of him at home. All the staff were caring and friendly with each interaction we had. We are really grateful for Oxford where we felt completely comfortable with the care my dad received and leaving him there. The community and rooms were also clean."
- Samuel J.

"We were searching for a memory care home for my Mom and found Oxford Glen in Sachse. The environment has the feel of an inviting pacific northwest lodge. Our experience has been amazing in our interactions with the Executive Director and Sales Director. They have a beautiful courtyard for my mother to enjoy the outdoors and her room is spacious and private. We are so grateful that she is in a safe, caring environment."
- Ellecia W.

"Great company, I would highly recommend this beautiful establishment!! Everyone there is so helpful and sweet. I love the fun and caring energy when I visit. The Executive Director is so sweet and always seems to be available for my small to large questions! My mom is so happy to be here she's made so many friends being there. Thank you for letting us join your family Oxford Glen at Sachse!"
- Kierstin H.

"Awesome and friendly staff! Absolutely love visiting! The Executive Director is heaven sent."
- Kierstien M.

"The staff is very caring. My mom is never more than a few steps away from someone who will gladly help her. The community is very clean. My mom is well cared for. Additional services such as mobile dentistry and a hair stylist make teeth cleaning and hair cuts so easy for a stroke victim in a wheel chair. My job as a family member responsible for my mother is much easier because of this community.""
- Debbie

"I recently became primary caregiver for my aunt and couldn't be happier placing her at Oxford Glen! Her room is always kept tidy (I've never seen her bed not made). The residents have a very warm and comfortable living area that feels like a home (they even have a rather large courtyard they have access to). Always at least one staff member present in the area and it's very manageable for them- not too many residents in one areaand they're always kind and understanding with the residents. They don't require prior notice to visits and I can pop in any time! Truly a lovely home for her."
- Darla W.
Medication Administration
Oxford Glen uses specialized software to automate the process of administering, documenting, and re-ordering medications and treatments safely and efficiently. The software allows Oxford team members to focus safely on quality resident care by reducing errors through automated record keeping, low inventory alerts, and programmable dosage information. You'll never have to worry about your loved one running out of a medication or making a trip to the pharmacy. Oxford team members will track and order their medications with updated records directly from their doctor. Schedule a virtual visit to learn how we can help with medications and treatments.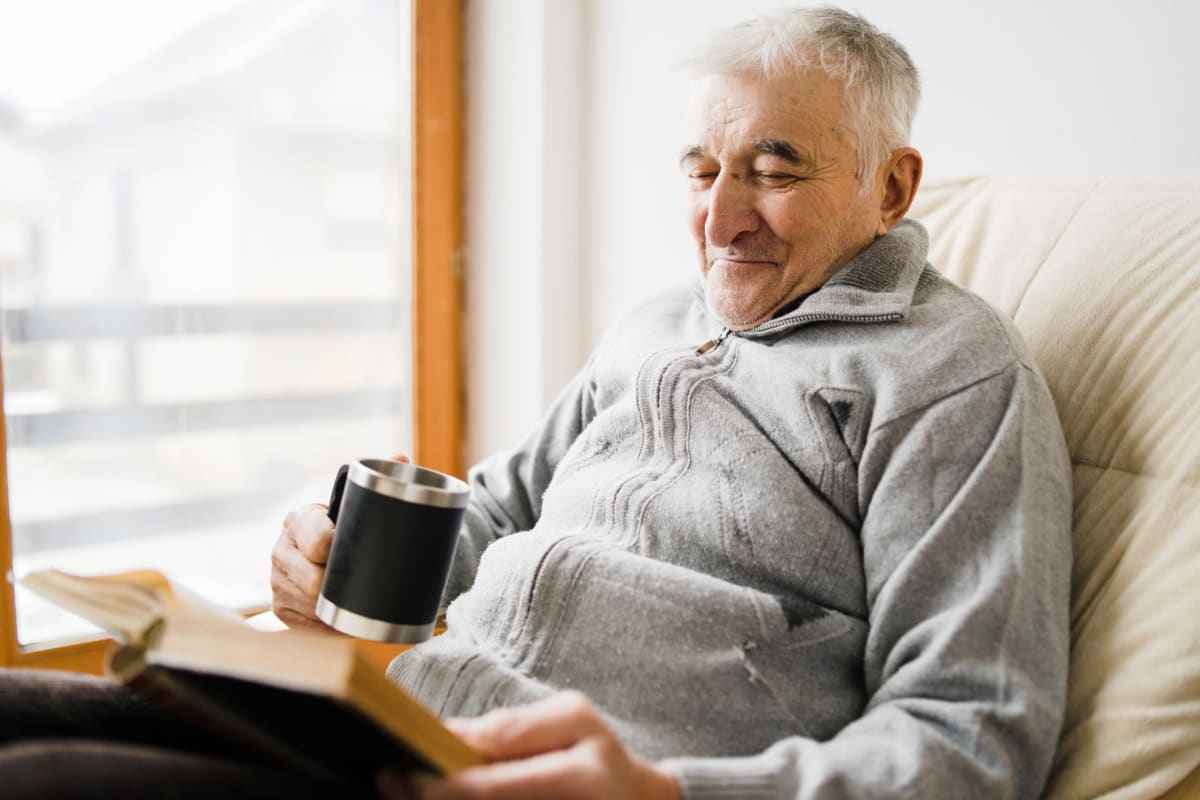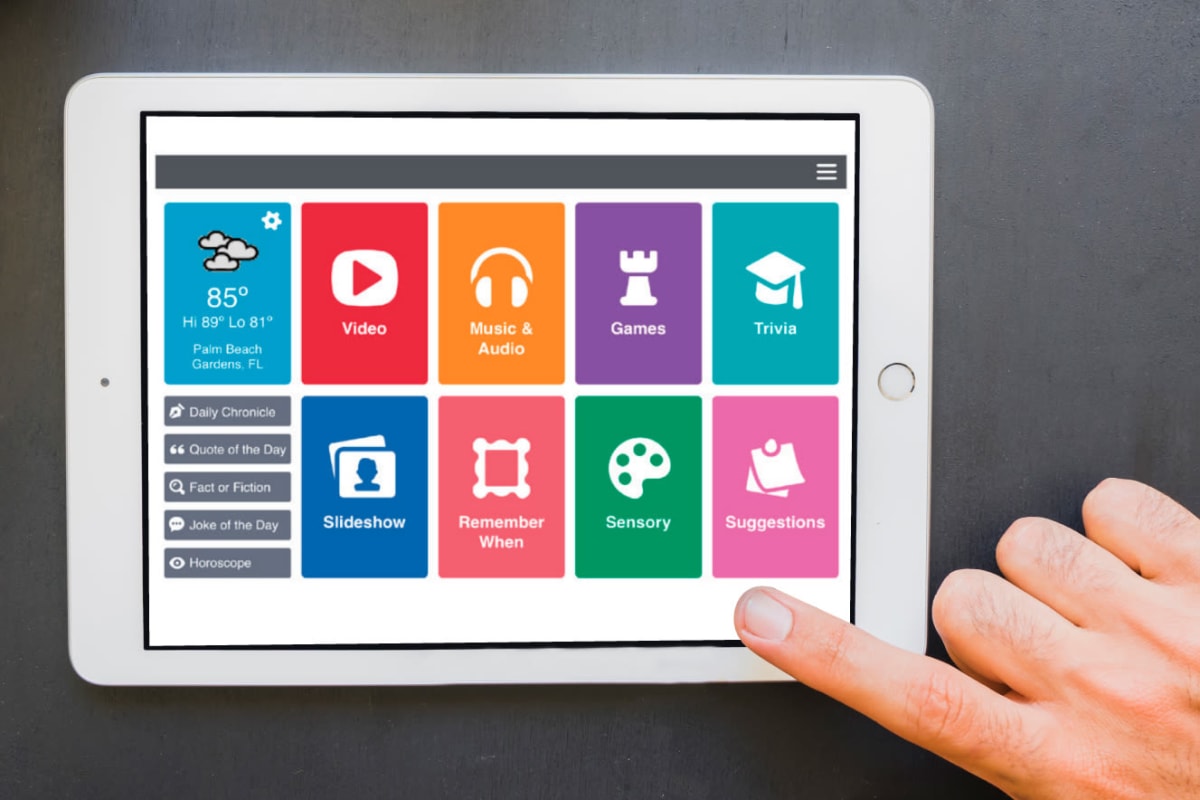 Engaging Tools
Oxford Glen implements therapeutic programs like LinkedSenior. This evidence-based touchscreen technology helps staff and families engage residents with person-centered care - no matter where they are physically or cognitively. Check out a family iPad to use these engagement tools for your next visit with Mom or Dad.
Music therapy
Reminiscence therapy
Cognitive games
And much more!
Cherish video memories of your loved one forever with the OneDay App. Another amazing tool we use at Oxford Glen captures moments with your loved one that we then send to you directly or share on our very active Facebook page.