Memory Care at The Oxford Grand: Feels like home
At The Oxford Grand Assisted Living & Memory Care in Wichita, our memory care houses are intimate, warm environments that focus on the needs of our residents in a uniquely personal fashion. Each suite opens to a great room that includes a cozy fireplace, comfy chairs and a kitchen space where residents will find a specially trained care team and engaging activities uniquely designed for their needs and interests.
The specially designed Oxford Memory Care House allows increased visibility for team members and helps residents find their way around their home. Anxiety and confusion is minimized as your loved one can easily navigate the space and find an activity for themselves.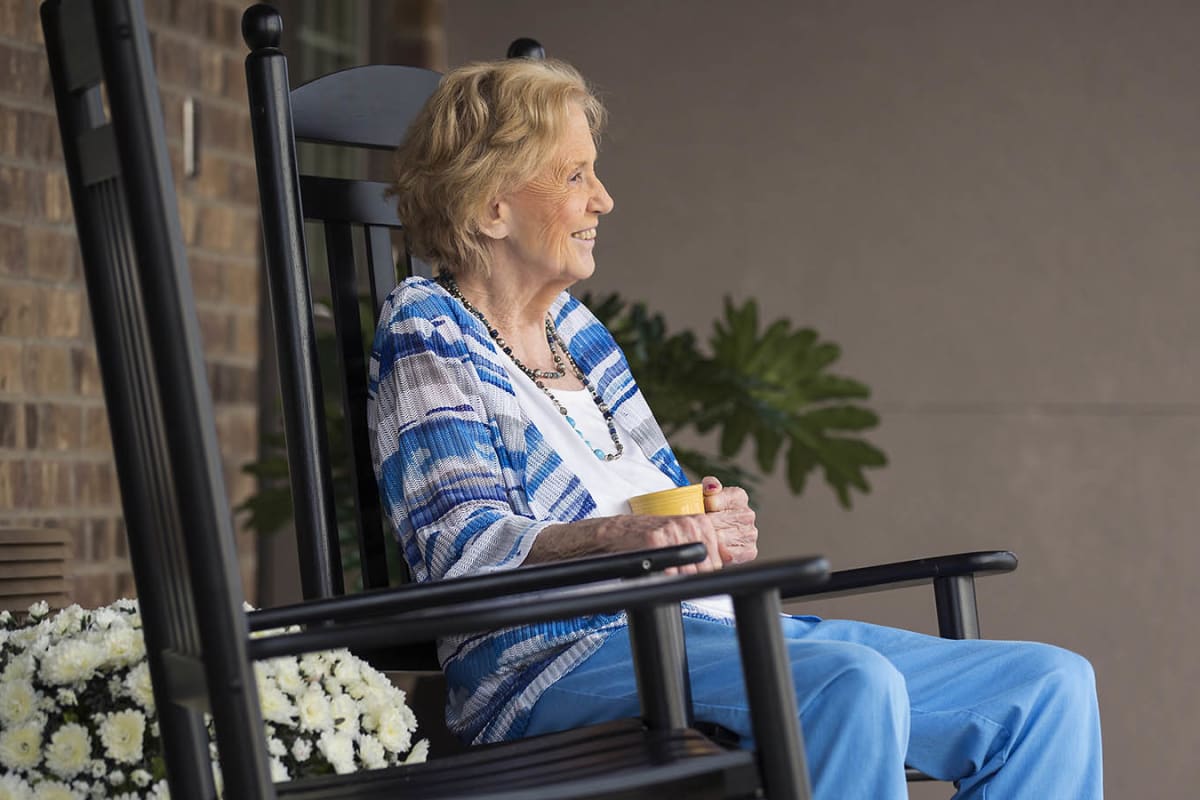 Innovative, Personalized, Enriching Memory Care
Oxford Memory Care was developed in 2010 to provide innovative personal, enriching, and loving environments for individuals living with dementia. We want to get to know you and your loved one as your family becomes a part of the Oxford Family. The Oxford approach to memory care is centered on one ideal:
Understanding who someone was before Alzheimer's is the path to understanding how to genuinely care for them now.
By working with families to create individualized profiles of life before Alzheimer's, we create a lifestyle experience that is truly unique. Using innovative technologies and research proven therapies, our caring team treasures what can be, connecting residents to family and friends in ways that provide hope and joy.
"We are greatly comforted by the knowledge that he is receiving such great care during these unprecedented times when we cannot be there."
- Pat B.

"From the Director to the Chef to the Housekeeper, almost every team member at the Grand has invested themselves into our family."
- Brad C.

"From the first time I walked through the doors, I have been treated like family. I cannot recommend the Oxford Grand highly enough."
- Robyn C.

"Love love love Oxford Grand! Their care is second to none and I highly recommend them for all your Assisted Living and Memory Care needs."
- Gustavo T.

"Oxford Grand has been a God send!!!!! Warm and caring staff, beautiful surroundings, fun activities, great food. So blessed to have my mother here!!!!!"
- Susie C.

"It is a fun, good place to be with lots of positive people and coworkers. I love making a difference in our resident's lives."
- Denise A.

"I recently worked with Oxford Grand for a friend needing Assisted Living. They were prompt, very courteous, and took the time to listen to her needs. Touring, and moving in was just the beginning. Her daughter was able to sleep knowing mom is taken care of, and enjoying the many community offerings tucked within."
- Kayla D.

"Our Mother is in one of the memory care houses at Oxford Grand. We are so blessed to have found this wonderful place her. The care that she receives is the best. The administrative staff to the care staff and everyone in between have been professional and caring. The staff that is with our mother daily is kind and attentive. Our mother is treated with respect. With all of that being said, our mother is happy and content and for that we are grateful!!"
- Judith T.
Oxford Memory Care
The following list of services is only a sampling of what you can expect at The Oxford Grand Assisted Living & Memory Care – because loving our residents is a way of life, not a bullet point on a list.
Caring team members specially trained to work with individuals living with dementia
Exceptional staffing ratios in Oxford Memory Care houses are second to none
24-hour nursing gives your loved one the care he or she needs
Touchscreen technology provides unlimited cognitive engagement options and personalized reporting for families and our team.
State-of-the-art security, fire, and resident wellness technology, providing safety and peace of mind
Medication management utilizing electronic Medication Administration Records – increasing safety and accuracy in administering medications
A dedicated life engagement team interacts with residents seven days a week, keeping residents active and engaged.
A secure outdoor courtyard